Hi Crafters! A huge happy welcome to you for the Heffy Doodle and InkOn3 Collaboration Blog Hop! We hope you love this showcase of the wonderful products that both companies have to offer and that it keeps you smiling through the days! Read on for info on the prizes you can win, my two projects for the hop and the wonderful designers taking part.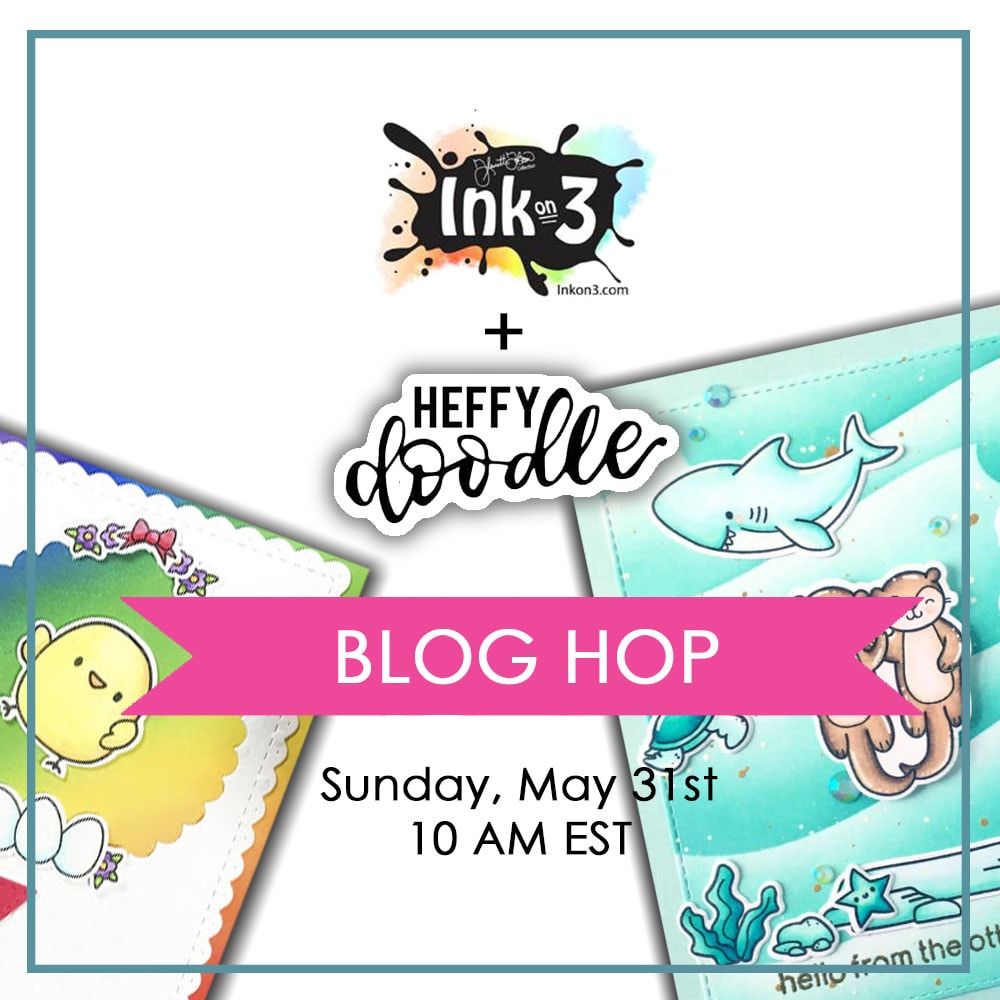 PRIZES
Yes, of course there are prizes!
Heffy Doodle will be giving away a 25Pound gift card and InkOn3 a 25USD Gift card to their respective stores! Just leave us all a comment!
Winners will be chosen randomly and announced on Sunday June 7th on the Heffy Doodle and InkOn3 Blogs so keep an eye out!
Now to my projects:
Products used
InkOn3
Blackout Detail Ink
InkOn3
Atelier Peacock Blue ink
InkOn3
Atelier My Jam Purple Ink
InkOn3
Atelier Goddess Green Ink
HDS
Otter Side Stamps
and Dies
HDS
You're Weird Stamps
and Dies
HDS
Wave to Me Stencil
HDS
Circles Of Life Stencil
HDS
Thanks Heffy Cut
HDS
Metric Stitched Rectangle Dies
Copic Markers
This is my first chance to try out the InkOn3 Inks and WOW!!! The Blackout detail ink is superb - it's now my new go-to for image stamping - copic friendly and waterproof, with a lovely dark, intense & clean impression. I am fussy with my black inks and this one met my standards and them some!
The color 'fusion' inks have so much versatility! They are watercolour inks, reactive with liquids such as water and great for mixed media too! I was super impressed with the juiciness of the ink pads. The vibrancy of the colours are amazing - much more intense than other brands I have. The inks themselves blend beautifully and it was not hard to get a seamless finish with them (I used blending brushes).I really enjoyed using these inks and will be reaching for them often!
Otter Card:
To make the background, I used the Wave to Me stencil with the Peacock Blue Ink on 2 pieces of white cardstock. I graduated the colour to give depth. I lightly went over the pieces with the left-over ink on the brush when stenciling was done. I cut along the waves of one piece and layered them as shown. I used the Stitched rectangle die to cut a border.
I coloured another card piece and die-cut with the Thanks Heffy Cut. I cut another from black cardstock to layer (offset) behind the colored version. This is a handy hint to make a sentiment die stand out from a similar colored background. I stamped the images in the InkOn3 Blackout Ink. I coloured the otters with Copics and adhered all to the card as shown. I stamped the sentiments on black card with Versamark Ink and white embossed them, trimmed and adhered to the card.
You're Weird Card:
Processes were similar to the Otter card. I used the Circles Of Life Stencil to create the background with the My Jam Purple and the Goddess Green Inks, trimmed and attached to a white cardbase. I colored another piece with the same colors and die cut with the Thanks die (and an extra black die cut). I stamped and colored the images with Copics and adhered to the cardfront. Sentiment again were stamped in Versamark ink and white embossed.
Two fun, vibrant cards which are sure to brighten a crafty friends day!
Here's the full hop list for you to enjoy!




Don't forget to comment for a chance to win!
Thanks for stopping by
Ali xx